On the Thursday, when the Northeast of England received its first decent coating of snow in seven years (according to my daughter), there seemed little chance of the tie going ahead. If Whitley had had it bad, then County Durham would be snowed under 20 foot snowdrifts relying on helicopters to drop off supplies. But no! The snow lasted a bit longer than usual but by Saturday morning, the snow had gone. Parkrun went ahead on the Links and apparently the West pitch was in tiptop conditioning. The pessimist in me had been hoping for a cancellation so that we would at least feature in the fourth round draw. Most Bay fans travelled honestly and with only dreams for hope. The 3-0 drubbing was at the back of mind. Yes, we'd improved, but enough to win in that there Durham valley? A true pessimist me, like!
The Boy Mark picked me up and we whizzed along the A1, in surprisingly a growing optimistic mood...
That was until his car informed him that it was experiencing reduced power. His Astra duly conked out as we trundled onto the hard shoulder. It stubbornly refused to move. Was this to be the end of our Vase dream: the lads losing at West and us stuck waiting for the AA? We waited in silence as he kept trying the motor. There was nothing for it: we would have to stroke the dashboard and tell it what a lovely car it was.
That worked! We set off again, although slightly warily, and arrived at the Wanted Stadium....not a reference to a well-toned group of suntanned and sun-dried lads but we hoped we'd be "Glad we came".
A couple of desperadoes outside The Wanted!
Entering the stadium, sadly there was no sign of any other famous desperadoes such as Yul Brynner or Clint Eastwood but there was the unveiling of flag number four in Flag Club's expanding ranks. Yes Pogo Patterson had gone #flagcrazy.
Flag club's new addition - not the West Auckland fan!
It was a fine sight but not one the local scallies appreciated as one of their number pretended to defecate on our prized cloths! This troubled Pogo, who stood guard along with the rest of his posse in front of both their pride and joys!
Just you try it!
Despite walking past a number of times, the young tykes kept their distance; preferring to throw ice cubes, from a coke one of them had bought, at each other.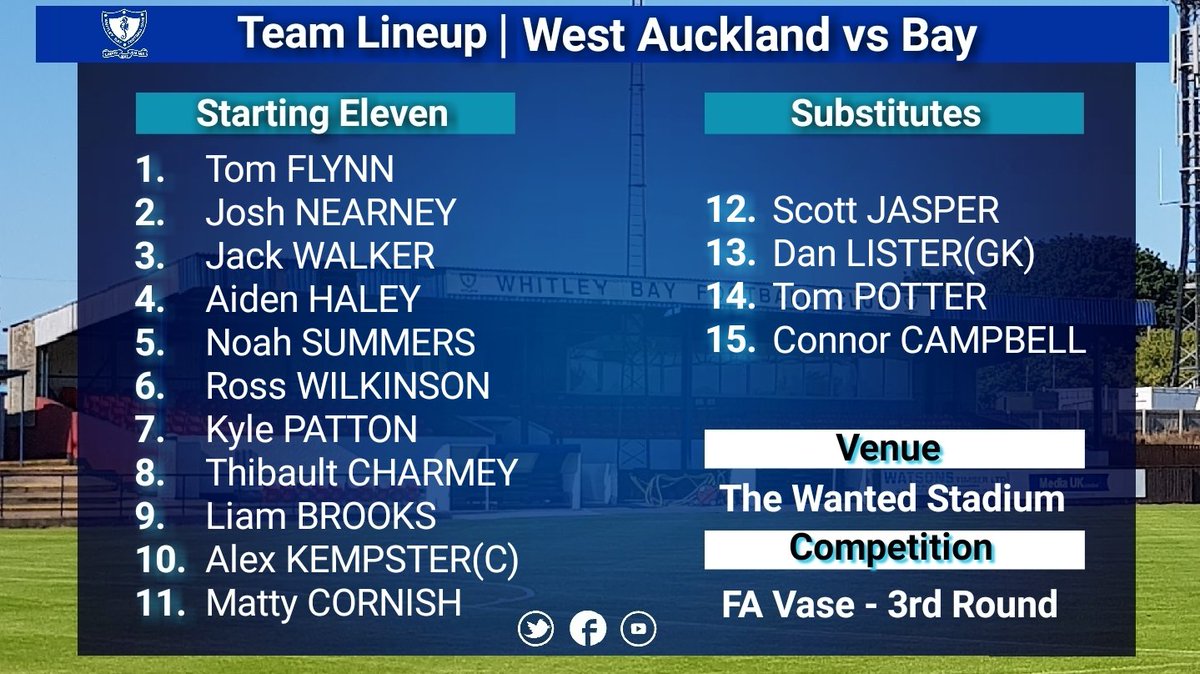 The game hadn't long been started when Adam McHugh in the West goal spilled a shot. Kyle Patton was onto it in a flash and, in what seemed like slow motion, he was upended by the aforementioned keeper's desperate dive. Penalty! Up stepped Kempster....
Bang!The scallies were silenced. It got better soon after with the Kempstervator played in by the buzzing Brooks. After beating one man, he unleashed a superb effort into the bottom corner of the net that I was just too slow to catch on video.
We were 2-0 up and the scallies slunk off to buy themselves more coke with more ice! Their return was delayed as West were awarded a penalty. Instead of returning to see our smug faces, they charged, shared coke in hand, to the other end of the ground. They arrived just in time to witness the ball springing away from Flynn's goal via his left hand post.
More celebrations at our end! Could this day get any better? Next up, Flynn flew across his goal to amazingly tip a West free-kick that was bound for his top right hand corner.
Our happy end....mostly.
Into the second half and the West Auckland wind was troubling my Movember-less upper lip. The beard needed to grow back quickly! However there was almost more delight when Brooksy powered onto a Thibault shot but his shot crashed onto the bar with the goal gaping.
Worryingly, West got the all-important goal soon after, from an Adam Mitchell freekick that was headed in by Nathan Fisher. Suddenly the Bay looked jittery. West had upped their game and it was the Bay's left flank that was getting most of the attention. The ref decided that every time a West player went down it was a freekick and every time a Bay player went down it was play acting.
Despite the jitters, the lads were still creating chances to distract us from the scallies, who had decided to visit us after their goal had gone in and were trying, failing miserably, to hit us with iceballs. It was the Kempstervator who put a stop to our latest visitation as he rose high to head home: 3-1 to the Bay and Alex had his hat-trick!
A quick round of "If you don't jump..." and the scallies shuffled off, muttering something about "seeing us outside". Pre-teens scare me sometimes. But this wasn't one of them!
Maybe we could dream! Five minutes later, the answer was a definite "No!"
Another Mitchell freekick and another headed goal! The Bay were struggling with the incessant procession of freekicks and it was another one in the 74th minute that levelled the score. Soon after some of the scallies conducted a a lap of the ground to whisper the score to us then run away giggling. Eight minutes earlier we had been 3-1 up. This was not going well. I had a bad feeling about this.
The last two goals had been scored by big man Darren Richardson and from a corner some home fans could be singing "Feed the bear and he will score...." I assumed it was a bear but it could have been any type of mammal: whichever it was I hoped for the RSPCA to come along and remove him from the field of play. But they didn't.
Things went from bad to worse with seven minutes left. Professor Wilkinson threw himself at a cross, desperate to stop any bears, badgers or stoats getting on the end of it, and in the process was laid out on the turf. After a long wait, he was helped to the side of the pitch and finally substituted with a suspected fractured eye socket and major concussion.
Even so, there was still fight in the Bay and but for our new least-favourite referee, we would have scored a potential winner.
When West's Denver Morris tried to clear an effort from substitute Juracell Jasper, it appeared to bounce up and strike his arm which stopped the ball crossing the line. The ensuing scramble might also have given the Bay a couple of penalties but ref Ian Gittins gave us nothing. The ball then fell to Thibault, who was stretching for the ball and could only send it aginisingly over the bar.
If that had gone in then we would been a happy bunch come full time but with at least eight minutes of injury time to play and extra time, there looked only one winner: and it wasn't Whitley Bay.
Sure enough with eight minutes of injury time played, a cross from the Bay's right this time flashed across Flynn's goal and there was Arran Wearmouth to blast home. It wasn't as if we hadn't been warned.
There was still a chance for Jasper two minutes later but he couldn't get his header on target and so the FA Vase slipped away from our grasp yet again. 4-3 the final score.
The lads had worked their socks, and almost eye sockets, off. (Sorry Prof). The only good news was that Professor Ross hadn't fractured his eye socket - just soft tissue damage and a monster headache. Alex had scored, what on another day, would have been a match-winning hat-trick against a strong and extremely talented West Auckland side. There was no doubt they had been made to work for the win but the lads had come so close. They had learnt a lesson today that's for sure and would come back stronger for it. We still have the League Cup to fight for so there might still be a happy ending to this season's story: just not the one we had dreamed of.
The Boy Mark's Astra got us home safe but sad.