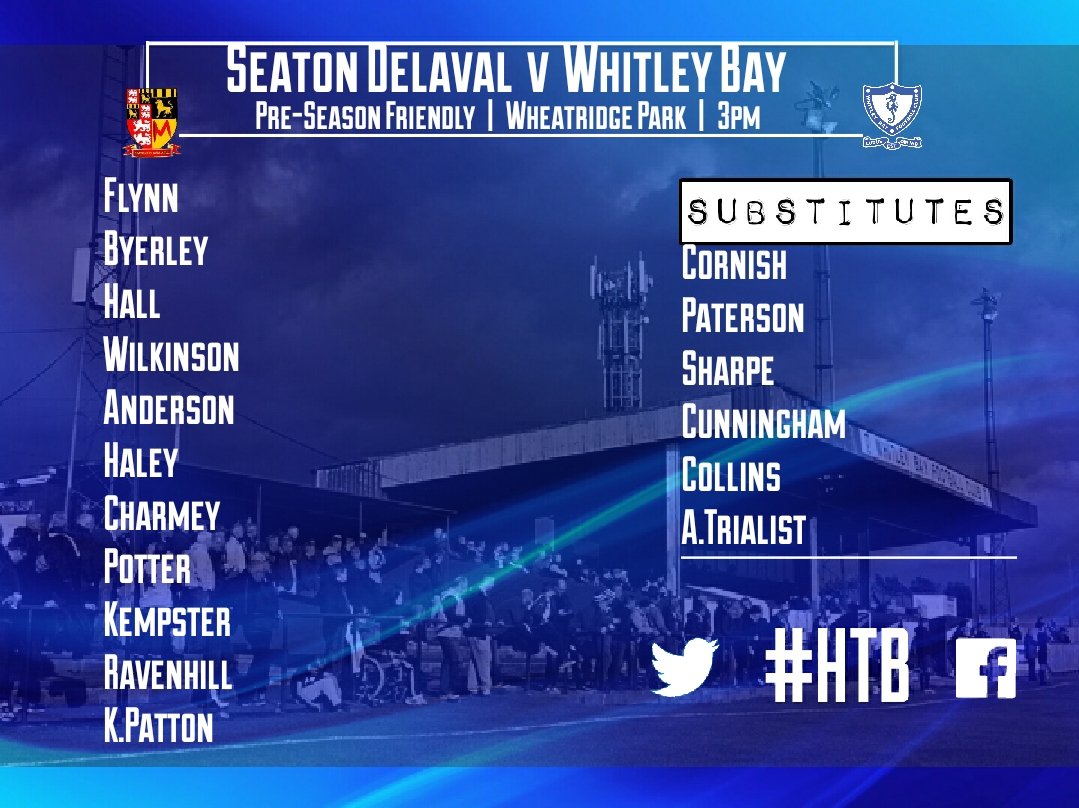 The beautifully designed team-sheet from the club's Twitter, another labour of love from Mr Twitter.
For most of my life, a visit to Seaton Delaval meant one of two things: ice cream or ghost stories. The former usually on a dismally damp bank holiday and the steamed up windows of my dad's Ford Escort. The four of us would sit licking silently our one scoop of vanilla and flake (cause we woz posh) as the rain bounced off the car roof: a familiar scene for many Tyneside families in the 1970s and 80s....
Good to be back and entertaining the Mexican ambassador!
Today, however, there was no ice cream on offer, cause we were classically late again. Having had to drop his son at a ju-jitsu competition in Killingworth first, the Boy Mark finally appeared to pick myself and my returning mate, Charlie. The mercurial Charlie was my original partner in crime and my best man in the heady days of 1996. However the mercurial one now lives in Mexico where his access to Bay games is limited: live streaming possibility there maybe?
As usual we were failed by technology: think we'll try programming in the right postcode in next time, and arrived at the ground to hear the roar / polite, interested applause of the Bay hordes: Kyle Patton had scored. Start as we meant to carry on? We'll see. The overgrown terraces hinted at a much more illustrious past but there were dangers lurking for those fools who had come out in shorts. Sure enough I was whipped by nettles. Thankfully I carried on with extreme bravery and no wincing or mincing. My fortitude was soon rewarded.
Just ten minutes later, with our spot behind the goal achieved and flag erected, the boy-wizard Potter had doubled the lead. In fact I don't know if I can carry calling him that because he seems to have doubled in size and is now more of a skillful power ram. This time he was letting fly with a delightfully curling floater. 2-0 and 11 minutes in.
The week earlier, our good friends in red had played here and won 2-1. We had already matched their total and were looking for more. Bragging rights to the Bay?
Soon after Potter's magi-ball from a corner was turned into Super K's path and he made no mistake: screaming home from two yards out!
With half time approaching Thibault added some of his own Gallic charm: back-flicking a Kyle Patton cross. The younger Patton bro was certainly enjoying himself in the eldest's absence. The second half was a much more sedate affair but new boy Cornish certainly took the game to the Delavals with some ghosting runs that showed great spirit and poise!
The ref provided the entertainment in the second as he found himself without one or both linesmen. Delaval's off-side trap kept being exposed by the Bay frontline which made them more and more frustrated. Finally the ref had had enough of their complaints so he just told them to "shut up cause I'm doing my best!" When they carried on arguing he pointed to the lack of a linesman and kept repeating "Shut up! Shut up!" This was all while he carried on refereeing the ongoing game. Who says men can't multi-task? "Shut up!"
At the final whistle, the Bay had triumphed 4-0 and we could now begin the argument with Charlie - Vase winning teams v current team....could we compare? In terms of team spirit me and the Boy Mark agreed that there were few better teams. This was still a young team with much to prove but you could only beat the teams before you and today they had done that conclusively.